COMPANY PROFILE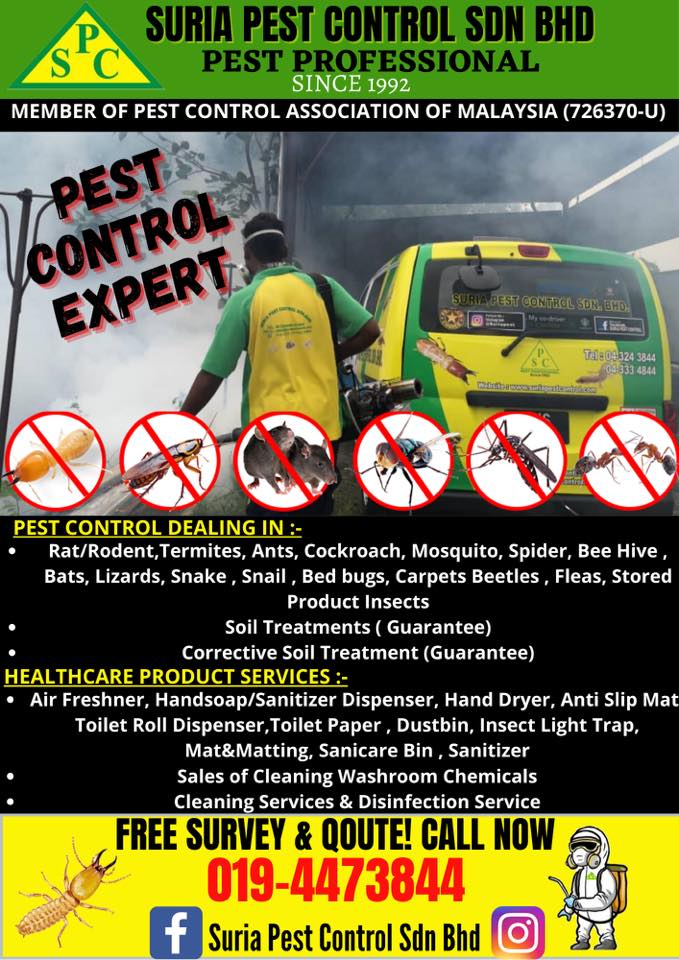 We are uniquely positioned to provide our customers with excellent services and support. As we continue to grow, Suria Pest Control Sdn Bhd continues to ensure exceptional quality and unsurpassed service.
*Our Objective and Commitment to Excellence
-Our objectives are to strive to excel and update ourselves continuously so that we could provide high quality and reliable products and services to our customers. With our years of experience, expertise and commitment to excellence, we have expanded our business and offering wide range of products which includes.
Services:
Specialist in Termite (White Ants)
Soil Treatment (Guaranteed)
Corrective Soil Treatment (Guaranteed)
General Pest Control: Ants, White Ants, Rats, Cockroaches, Flies, Bed Bugs, Snake, Bee Hive, etc....
Mosquito Treatment: Fogging & Larvaciding
*Healthcare Product
-Automatic Air Freshner Box, Sanicare Bin
Sanitizer, Hand Soap Dispenser
Hand Dryer, Insect Light Trap
Sales of Cleaning and Wash Room Chemical Equipments
Disinfection Service